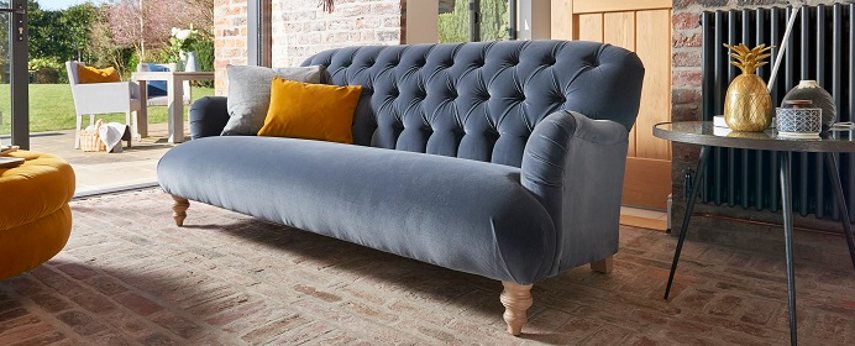 Tetrad Duffel (FF Collection)
The Tetrad Duffel sofa collection is part of the FF range. The sofas are luxurious with deep buttons and the seat is a wrap over sprung platform. Choose from a mid or petit size sofas and there is a matching snuggler which can be used as a large chair or small sofa. The dimensions are compact and will suit these needing a stylish sofa for a smaller area of the lounge or breakfast room. Available in a good selection of FF cottons, linens and velvets and you also have a choice of wood finishes for the turned feet
---
Tetrad Duffel (FF Collection) Midi Sofa
Crafted and upholstered in Tetrad's very own Preston factory, this Duffel sofa is the very peak of contemporary style but also blends traditional detailing flawlessly within the tall, turned legs and quilted seat back. There's a range of vibrant fabrics from linen to plush that you can customise your new Tetrad FF sofa with, will you opt for a pretty pastel or an eye catching velvet? Height Width Depth 85 198 96
Tetrad Duffel (FF Collection) Petit Sofa
Fall in love with the quirky Tetrad FF Duffel Sofa, a petite piece with plenty of flair from the fabulous collection of colourful fabrics to the contemporary detailing. It's top to bottom stylish, with no expense spared in delivering a truly well-constructed and beautifully present sofa fit for the family. You're sure to adore the choice of Tetrad's exquisite covers for your new...
---
Tetrad Ruffle (FF Collection) Chaise Sofa
Scatters sold separately. Product shown is Right Hand Facing Chaise Vintage inspired sofa styling meets mid-century modern in the sumptuous Tetrad FF Collection Ruffle Chaise Sofa. With plump seat cushions and a supportive foam covered super loop sprung back, the Ruffle Chaise Sofa is the perfect place to relax and unwind. Choose from 22 exclusive Tetrad FF fabrics to suit the Ruffle Chaise Sofa...
Tetrad Ruffle (FF Collection) Midi Sofa
Scatters sold separately. The Tetrad FF Collection Ruffle Midi Sofa has a shapely, mid-century modern design that's finished with traditional turned hardwood legs. The sofa features two fibre filled seat cushions that provide a sumptuous and supportive sit together with the foam covered superloop sprung back. Height Width Depth 88 205 109
---
Tetrad Ruffle (FF Collection) Petit Sofa
Scatters sold separately. The Tetrad FF Collection Ruffle Petit Sofa has a stunning mid-century modern inspired design with a classic vintage edge. Designed with plump seat cushions and a supportive superloop sprung back, the sofa feels as good as it looks. Choose from 22 exclusive FF fabrics to suit the Tetrad Ruffle Petit Sofa to your style. Height Width Depth 88 175 109
Tetrad Ruffle (FF Collection) Snuggler
Scatters sold separately. The Tetrad FF Collection Ruffle Snuggler Chair has a simple, mid-century modern design with traditional turned hardwood feet which give it vintage edge. With the exclusive Tetrad FF fabric collection, you can style the Ruffle Snuggler to suit your interior. Choose between bold velvets, abstract florals and calming neutrals to create your dream look. Height Width Depth 88 127 109
---
Tetrad Duffel (FF Collection) Snuggler
The Tetrad FF Duffel Snuggler is a relaxed, comfortable armchair with beautiful quilted detailing on the seat back and complimenting rounded seat. This quirky chair has a laidback sit and tall, traditional wooden legs which combine the very best of the orthodox and the contemporary. Height Width Depth 85 118 96