---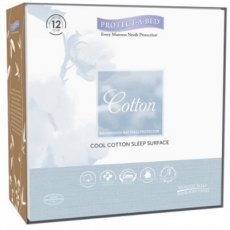 Protect-A-Bed Natural Cotton Mattress Protector
Protect A Bed Natural Cotton Mattress Protector from the Protect A Bed Mattress Protector collection. The Protect-A-Bed Natural Cool mattress protector has a soft and smooth touch which features a waterproof barrier. It does not change the feel of your mattress and is cool and comfortable to sleep on. The Cotton Cool mattress protector also features the innovative Miracle Membrane™ with the...
Tempur Mattress Protector
The waterproof TEMPUR-FIT™ Mattress Protector consists of natural fibres which are both breathable and absorbent. The protector, available in white, features an 'intelligent membrane' that prevents the mattress from getting wet and is one of the thinnest of its type on the market. As the picture demonstrates, it easily stretches to fit all TEMPUR mattresses. You may sleep on it directly as...