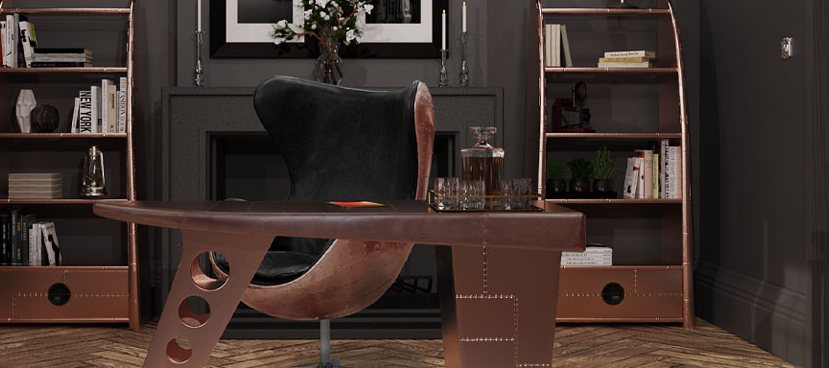 Carlton Furniture Aviator
Carlton Furniture is a family run business creating beautifully handcrafted and hand finished dining furniture, bespoke, dining chairs, tables, desks and sideboards. Established in 1999 Carlton's we have a reputation for amazing design and impeccable quality and we pride ourselves on presenting our customers with choice, value and something truly beautiful for your home.
All of Carlton Furniture's solid oak ranges can be expertly painted using a selection of the prestigious Farrow & Ball paints and along with our extensive collection of high end British wools and fine Italian leathers to choose from, each piece really will be, uniquely yours.
The Carlton Aviator range displays eye-catching industrial style, inspired by military aircraft and echoing the Spitfires.
---
Carlton Furniture Aviator Half Wing Desk
Our Aviator range is made for grabbing all the attention, coming in two amazing colours Jet Brass and Jet Silver. Each piece hosts a studded aluminium design resembling the military Spitfires aircraft of WWII, moreover echoing the power and shire legacy of these Aviators. The Jet Brass design takes inspiration from the industrial factories of the early 1990's giving a stylish rustic appearance to the collection. The Jet Silver design is inspired by the modern industrial era for clean and bright aspirational appearance; complimenting the simplest of environments with an organic centre piece
Carlton Furniture Aviator Keeler Wing Desk Chair
Our Aviator range is made for grabbing all the attention, coming in two amazing colours Jet Brass and Jet Silver. Each piece hosts a studded aluminium design resembling the military Spitfires aircraft of WWII, moreover echoing the power and shire legacy of these Aviators. The Jet Brass design takes inspiration from the industrial factories of the early 1990's giving a stylish rustic appearance to the collection. The Jet Silver design is inspired by the modern industrial era for clean and bright aspirational appearance; complimenting the simplest of environments with an organic centre piece
---
Carlton Furniture Aviator Sideboard
Our Aviator range is made for grabbing all the attention, coming in two amazing colours Jet Brass and Jet Silver. Each piece hosts a studded aluminium design resembling the military Spitfires aircraft of WWII, moreover echoing the power and shire legacy of these Aviators. The Jet Brass design takes inspiration from the industrial factories of the early 1990's giving a stylish rustic appearance to the collection. The Jet Silver design is inspired by the modern industrial era for clean and bright aspirational appearance; complimenting the simplest of environments with an organic centre piece
Carlton Furniture Aviator Wing Bookcase
Our Aviator range is made for grabbing all the attention, coming in two amazing colours Jet Brass and Jet Silver. Each piece hosts a studded aluminium design resembling the military Spitfires aircraft of WWII, moreover echoing the power and shire legacy of these Aviators. The Jet Brass design takes inspiration from the industrial factories of the early 1990's giving a stylish rustic appearance to the collection. The Jet Silver design is inspired by the modern industrial era for clean and bright aspirational appearance; complimenting the simplest of environments with an organic centre piece