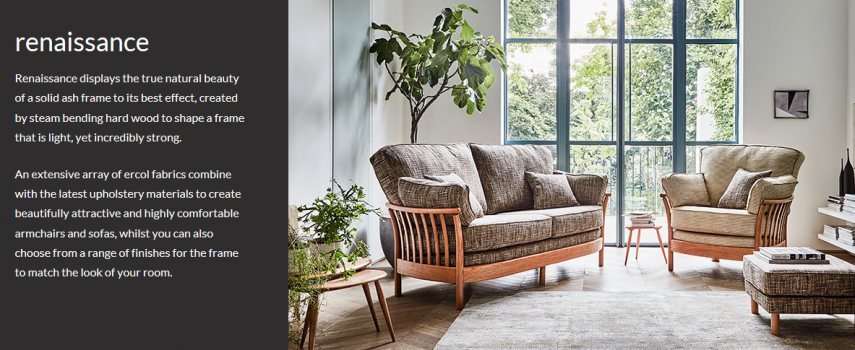 Ercol Renaissance
---
---
Ercol Renaissance Easy Chair
shown in body fabric G924, scatters G360 Relax and unwind in this classic armchair that is perfect for any home. Serpentine springs combined with gater springs at the front of the base make for a supportive sit. The high density foam used to construct the seat cushion provides comfort, alongside the blown fibre back cushion and feather filled arm cushions. The cushions will be covered in your choice...
Ercol Renaissance Piccola Easy Chair
shown in body fabric G669 This cosy armchair is the perfect accompaniment to your living room and is designed to be coupled with the Renaissance footstool. Deep, comfortable seat cushions made from high density foam, as well as blown fibre back cushions offer a relaxing sit. Feather filled arm cushions provide extra comfort. The cushions will be covered in your choice from our selection of over a...
---
Ercol Renaissance Footstool
shown in fabric E532 image 1 and E670 image 2 Put your feet up on a Renaissance footstool, the perfect accompaniment to a Renaissance armchair or sofa. A supportive high density foam cushion provides optimum comfort. The footstool will be covered in your choice from a selection of over one hundred fabrics. The timber legs are available in your choice of a variety of different finishes. Width Depth Height 55 55 36