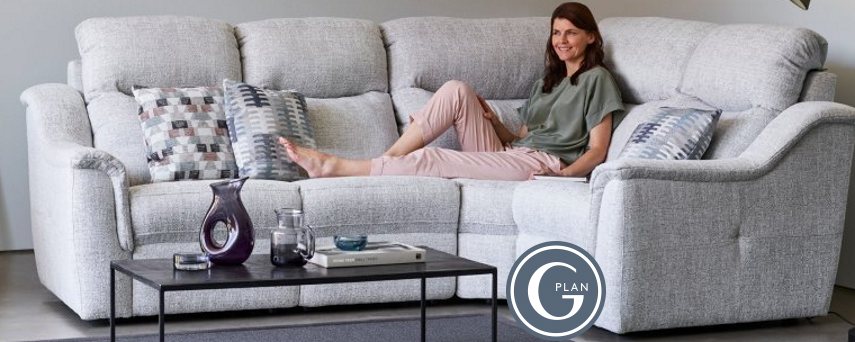 G Plan Firth
The Firth with it's smart, clean lines of this contemporary style gives it a timeless elegance, making it the focal point of any room. Its high back and gently curving arms offer premium comfort, and for true relaxation why not choose a corner sofa or a power recliner option.
Other options available include manual or electric action. These actions are available as either both seats reclining, or just one seat reclining and the other seat fixed (in this case please specify which seat you would like to recline, the left or right seat when facing the sofa).
available in fabric or leather.
---
G Plan Firth 2 Seater Double Powered Recliner Sofa
The Firth 2 Seater Sofa is contemporary in style and very comfortable with a high supportive back. Available as a static sofa, single recline (LHF, RHF) or double recliner. There are a wide range of fabrics and leathers and even has options to add corner sofas. Height Width Depth 106 167 100
G Plan Firth 2 Seater One Side Powered Recliner Sofa
The Firth 2 Seater Sofa is contemporary in style and very comfortable with a high supportive back. Available as a static sofa, single recline (LHF, RHF) or double recliner. There are a wide range of fabrics and leathers and even has options to add corner sofas. Height Width Depth 106 167 100
---
G Plan Firth 2 Seater Sofa
The Firth 2 Seater Sofa is contemporary in style and very comfortable with a high supportive back. Available as a static sofa, single recline (LHF, RHF) or double recliner. There are a wide range of fabrics and leathers and even has options to add corner sofas. Height Width Depth 106 167 100
G Plan Firth 3 Seater (2 Cushion) One Side Powered Recliner Sofa
The Firth 3 Seater Sofa is contemporary in style and very comfortable with a high supportive back. Available as a static sofa, single recline (LHF, RHF) or double recliner. There are a wide range of fabrics and leathers and even has options to add corner sofas. Height Width Depth 106 195 100
---
G Plan Firth 3 Seater Double Powered Recliner Sofa
The Firth 3 Seater Sofa is contemporary in style and very comfortable with a high supportive back. Available as a static sofa, single recline (LHF, RHF) or double recliner. There are a wide range of fabrics and leathers and even has options to add corner sofas. Height Width Depth 106 195 100
G Plan Firth 3 Seater Sofa
The Firth 3 Seater Sofa is contemporary in style and very comfortable with a high supportive back. Available as a static sofa, single recline (LHF, RHF) or double recliner. There are a wide range of fabrics and leathers and even has options to add corner sofas. Height Width Depth 106 195 100
---
G Plan Firth Armchair Static Or Recliner
The Firth Armchair is contemporary in style and very comfortable with a high supportive back. Available as a static or recliner. There are a wide range of fabrics and leathers and even has options to add corner sofas. Width Depth Height 86 105 103
G Plan Firth Large Armchair Static Or Recliner
The Firth Armchair is contemporary in style and very comfortable with a high supportive back. Available as a static or recliner. There are a wide range of fabrics and leathers and even has options to add corner sofas. Width Depth Height 119 100 105