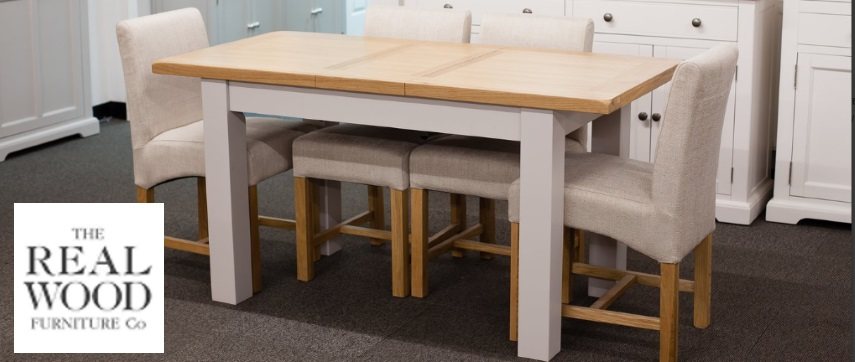 Real Wood Rio Painted Dining And Living
Our Rio Grey Painted furniture collection is another stunning painted range from Furniture Republic. Available in white or French grey with with oiled oak tops, the pieces are finished with a modern chrome knob handle.
Our Rio Painted collection offers bedroom, living room and dining room furniture in a clean modern style.
---
Real Wood Rio Painted 900mm Bench/Coffee Table
Our Rio Painted Collection is our beautiful solid wood collection which will compliment any modern or traditional home. The Rio Painted collection combines a clean painted construction with oiled oak tops, finished with a modern chrome or burnished metal knob. Width Height Depth 90 46 40
Real Wood Rio Painted Extending Rectangular Table
Our Rio Painted Collection is our beautiful solid wood collection which will compliment any modern or traditional home. The Rio Painted collection combines a clean painted construction with oiled oak tops, finished with a modern chrome or burnished metal knob. Width Height Depth 72 80 120 - 150
---
Real Wood Rio Painted 3ft Dresser Base
Our Rio Painted Collection is our beautiful solid wood collection which will compliment any modern or traditional home. The Rio Painted collection combines a clean painted construction with oiled oak tops, finished with a modern chrome or burnished metal knob. Width Height Depth 92 85 43
Real Wood Rio Painted Small Dresser
Our Rio Painted Collection is our beautiful solid wood collection which will compliment any modern or traditional home. The Rio Painted collection combines a clean painted construction with oiled oak tops, finished with a modern chrome or burnished metal knob. Width Height Depth 72 87 35
---
Real Wood Rio Painted Nest Of Two Side Tables
Our Rio Painted Collection is our beautiful solid wood collection which will compliment any modern or traditional home. The Rio Painted collection combines a clean painted construction with oiled oak tops, finished with a modern chrome or burnished metal knob. Width Height Depth 52 49 35
Real Wood Rio Painted 2 Drawer 4 Door Dresser Base
Our Rio Painted Collection is our beautiful solid wood collection which will compliment any modern or traditional home. The Rio Painted collection combines a clean painted construction with oiled oak tops, finished with a modern chrome or burnished metal knob. Width Height Depth 150 90 43
---
Real Wood Rio Painted 3 Drawer 2 Door Dresser Base
Our Rio Painted Collection is our beautiful solid wood collection which will compliment any modern or traditional home. The Rio Painted collection combines a clean painted construction with oiled oak tops, finished with a modern chrome or burnished metal knob. Width (cm) Height Depth 126 84 43
Real Wood Rio Painted 2 Drawer TV Unit
Our Rio Painted Collection is our beautiful solid wood collection which will compliment any modern or traditional home. The Rio Painted collection combines a clean painted construction with oiled oak tops, finished with a modern chrome or burnished metal knob. Width Height Depth 92 62 43
---
Real Wood Rio Painted Wide Screen TV Unit
Our Rio Painted Collection is our beautiful solid wood collection which will compliment any modern or traditional home. The Rio Painted collection combines a clean painted construction with oiled oak tops, finished with a modern chrome or burnished metal knob. Width Height Depth 131 62 43