Tetrad Harris Tweed Eriskay
---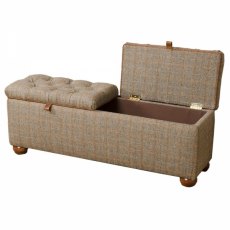 Tetrad Eriskay Harris Tweed Blanket Box
The Tetrad Harris Tweed Eriskay Bedding Box has a hand buttoned finish and has great attention to detail. Truly unique. Made exclusively for Tetrad, from pure virgin 100% wool, this range of Harris Tweed furniture is enduringly stylish and has been tested to over 50,000 rubs to ensure it lasts a lifetime. Naturally soft, the tweed is washed, beaten and pressed to ensure the smoothest possible weave...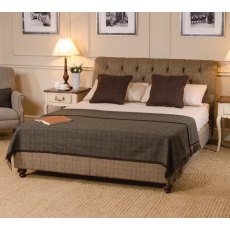 Tetrad Eriskay Harris Tweed Bed Frame
Expertly handcrafted with hardwood rails, the Eriskay bed is unique to our Harris Tweed collection as being the first in its range. Its defined shape creates a vision of class with its hand buttoned finish and attention to detail. Eriskay Bed is displayed in Bracken Herringbone with Brompton Tan piping. The Eriskay bedding box and throw is a perfect added touch to make this piece state of the art. Model Width Depth Height Scatter Double...