Ercol Chairs
A charming accent chair enriched with beautifully crafted arms that frame the sumptuous upholstery. The Marlia chair can sit within any living space, from a cosy snug or nook in the kitchen to a living room, bedroom or workspace.
The comfortable and functional Noto recliner is available in leather or fabric and has an integrated head and foot rest for all your relaxation needs.
The modern, tailored and comfortable Ginosa recliner is a welcome addition to any home offered in luxurious fabrics and leathers it will highlight any room
---
Ercol Marlia Accent Chair
The Marlia Occasional chair is crafted with solid oak arms that frame the upholstery. This chair can sit in any room in your home and will sit with and complement any sofa collection that you have in your home. You can choose from a selection of fabrics in the Natura collection including striking velvets and classic textured plains. The Marlia chair is available in a clear matt lacquer to show off...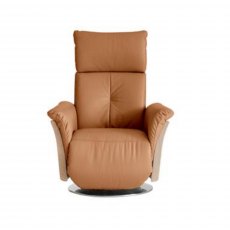 Ercol Ginosa Recliner
The Ginosa is a contemporary modern recliner designed for comfort. It has integral head and footrests that enable you to recline at just the right angle, perfect for relaxing in, whilst watching television or to just have a little respite from a busy life. The solid oak arm frame adds detail and interest that is distinctly ercol. Available in the Paloma collection of contemporary fabrics and leathers. Width Depth Height 82 90...
---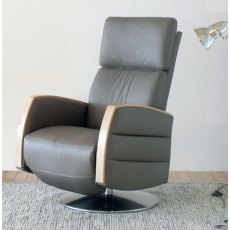 Ercol Noto Swivel Recliner
A contemporary style recliner, with a modern look focusing on tailored leather or fabric, combined with a timber element which has been incorporated into the design creating a clean, elegant silhouette. Designed with comfort and function in mind the Noto recliner has an integrated head and food rest for complete relaxation. Width Depth Height 75 90 - 160 115